Chiropractic Care
At
Denton Sports Chiropractic
, we're proud to offer chiropractic care designed to meet your unique needs with unique care plans for all patients.
We believe that things in your body can get messed up from bad movement patterns—and when you add things like working behind a desk, a new or old sports injury, or simply extra stress and inflammation, it can lead to a world of problems—and symptoms!
That's why we take a focused and custom approach to chiropractic care for our patients, diving deep to get to know what's really going on in their body, and then creating a care plan that's designed to bring them out of dysfunction and into balance. Many of our patients have reported improvements relating to:
Back pain
Headaches and migraines
Extremity problems
Sports injuries
General wellness
And more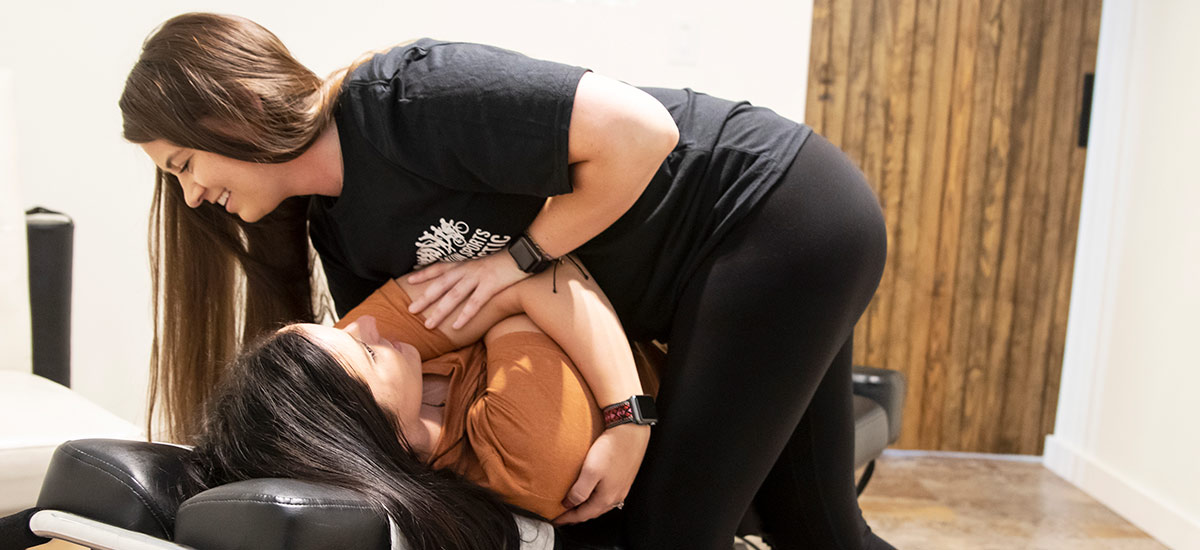 The Goal of Chiropractic Care
Chiropractic adjustments remove disturbances within the nervous system, restoring proper balance to the spine and helping your nerves communicate with organs and muscles effectively. When our spine is out of alignment, nerves can be pinched, ligaments and muscles stretched, and unpleasant symptoms ensue. During an adjustment, it's our goal to get your vertebrae back into proper alignment. We're proud to offer a variety of adjustment techniques and services. While some practices stop there—we go one step further to ensure long-lasting, healthy results.
Other Health Modalities
Our chiropractors also focus on soft tissue work, helping to reduce tension and tightness in muscles, tendons and ligaments so that your spine can hold an adjustment properly. When our soft tissue is "tight," it can pull our vertebrae out of alignment, which can lead to problems. Our doctors offer focused soft tissue work in exactly the area your body needs for tension and trigger point release.
Dry Needling allows us to get deeper into your muscles and ligaments for even better restoration of function. If we think you're a candidate, we'll go over the best care plan for you at your next visit! Dry Needling is an extremely effective technique that uses an acupuncture needle to "release" painful or knotted areas in your muscles. Many of us have areas in our body with muscle tension or "Trigger Points". By inserting an acupuncture needle into these tight areas, we elicit a "twitch response" followed by an immediate and long lasting relaxation. Because the needle can treat very deep parts of the muscle, the technique can achieve great pain relief. Dry needling not only helps pain relief but can be effective to heal overuse sports injuries, help improve muscle healing time, improve blood flow, and stimulate a muscle to work better.
Our practitioners are trained in RockTape application to help support proper posture in your injured area, helping to get you out of pain and into healing quicker. Both Dr. Crystal and Dr. Maggie are a certified advanced Rock Tape Docs.
Learn More Today
Ready to find out how focused chiropractic care and soft tissue work can help you unlock your best health yet? Our team would love to get to know you and welcome you to our practice. Get started today by contacting us for an appointment. We can't wait to see you in our care. CONTACT US »

Chiropractic Care | (940) 514-1701