New Patients at
Denton Sports Chiropractic
What to Expect
We're thrilled that you're considering care at Denton Sports Chiropractic! After you call to book an appointment or schedule online, we'll email you your new patient paperwork so that you can fill it out from the comfort of your own home.
Please fill out your paperwork in advance to allow the doctors time to review the documents before your appointment. Please arrive 10-15 minutes early to your appointment and wear loose comfortable clothing.
We pride ourselves on being timely, and we want you to know that we're always conscious of your busy life. Upon arrival, our team will check you in, make sure we don't need additional documents, and review insurance if applicable before your appointment.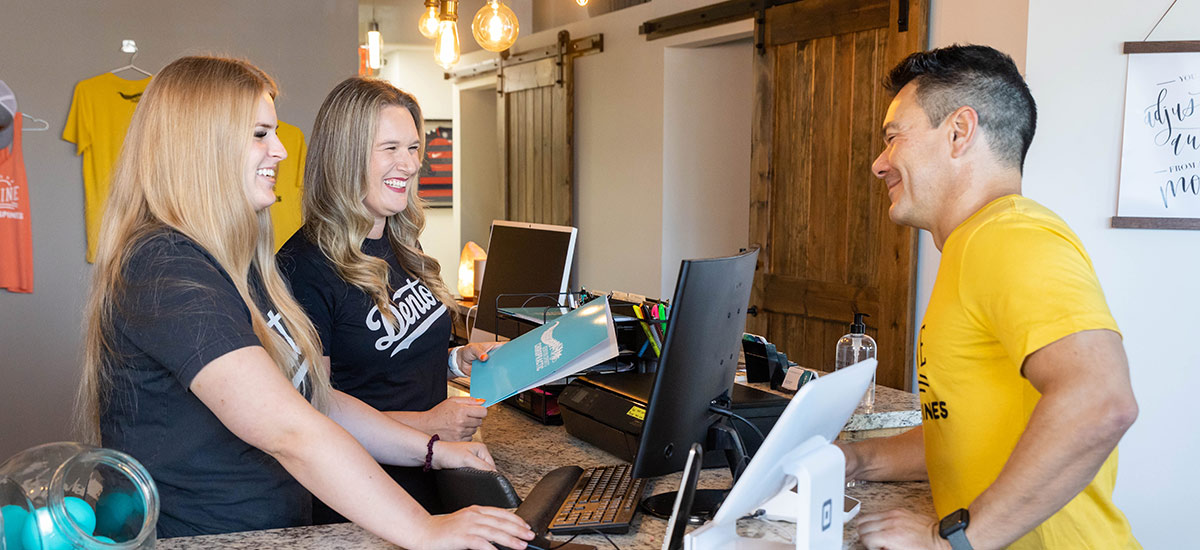 Your First Visit
First, we'll take you back to a treatment room where you'll meet with your chiropractor and go over your health history as well as what's brought you in. We want you to know that when you're with us, we'll take the necessary time to listen to your concerns and give you the chance to ask us any questions you have-as our patient, you have our undivided attention. The doctor will then give you a thorough evaluation to help them find your point of injury. After your examination, your chiropractor will make the best recommendations for you based on your tests and findings and we can begin the first treatment.
Keep in mind, we offer a variety of other modalities to help you achieve your best health yet-including dry needling, soft tissue work and a variety of adjusting techniques-all of which may be recommended for you depending on what will bring you the best results.
Your first visit will last approximately 40-50 minutes.
Ongoing Care
Our practice believes in helping you to restore your health as quickly as possible. Unlike other practices, we likely won't recommend you see us several times a week-instead, we'll see you for longer visits and do all that we can to restore proper function.
We'll also send you home with focused exercises and stretches to do between visits specific to your injury or problem-this will help you get back to proper function fast.
A credit card will be used to hold your appointment time. (Please see the cancellation policy.) Payment is due at the time of service. If you would like to use health insurance, Denton Sports Chiropractic is in network with BCBS and will electronically file your claims for you. If you have out of network benefits, a receipt can be provided for you to file with your insurance company.
Insurance Financial Responsibility
If your plan requires a referral, you must obtain it prior to your visit.
You are financially responsible for your health insurance deductible, coinsurance or non-covered service.
Co-payments are due at the time of service.
In the event that your health plan determines a service to be "not payable," you will be responsible for the complete charge of services rendered.
Your appointment time is reserved just for you. A late cancellation or missed visit leaves a hole in the doctor's schedule that could have been filled by another client from the waitlist.
As such, we require one business day's notice (24 hours) for any cancellation or changes to your appointment. Monday appointments must be cancelled on the preceding Friday.
Clients who provide less than one business day's notice, or miss their appointment, will be charged for the appointment if we are unable to fill the time slot.
Of course, we understand emergencies happen and will gladly accommodate any patient if we can. Your health and well-being are always our first priority.
Start Today
If you're ready to jump into healing, we're here for you. Contact us today to learn more about our custom care plans and how we can help.
CONTACT US »

New Patients at Denton Sports Chiropractic | (940) 514-1701