Taping in Denton
Denton Sports Chiropractic
is proud to offer taping for our athletes and patients. Taping is designed to support injured muscles, improve posture and promote lymphatic drainage if swelling or bruising is present.
RockTape helps to support and decompress the tissue immediately below the skin.
It is believed that this has three main effects on the tissue:
Fluid Effect : improves blood and lymphatic flow in the taped area
Mechanical Effect : improves the slide and glide between tissue layers
Neurological Effect : alters the perception of pain and improves body awareness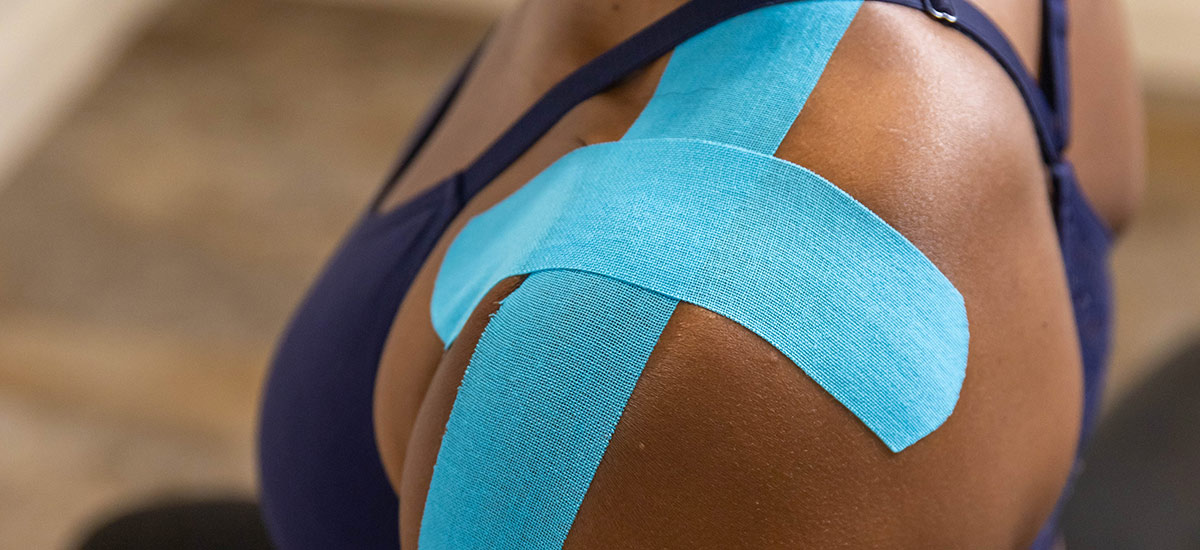 Help for Common Injuries
Taping is ideal for a variety of injuries, including but not limited to:
Pulled/Strained muscles
Low back problems
Shoulder injuries
Ankle issues
Elbow Tendonitis
Plantar Fasciitis
Swelling
Bruising
Poor Posture
And more
Assists to decrease pain
Assists to reduce swelling and bruising
Provide functional support while allowing full range of motion
Whether you're dealing with a new injury or something that's been recurring for years, we're here for you.
Do you offer different types of taping?

Both doctors are RockTape certified and that is our brand of choice. However, we also utilize different taping methods for injuries that need more stability.

Can I get taped if I'm not an athlete?

Definitely. All injuries are treated equally with us, no matter what their cause.

Can I wear tape during a sporting event or game?

Most of the time! You've probably seen pro-athletes wearing various tapes during their games to give an injured or weakened muscle a little added support during play. It can offer athletes of all skill levels the same thing. Your doctor will let you know if you should leave it on while competing or not.

How long can I keep the tape on?

Most of our tapes will stay in place for 2 – 4 days. It varies for each person, based on activity level and how much you sweat. We recommend removing the tape after that amount of time, even if it is still 'sticking' to you. This is so your skin can breathe and won't become irritated. If we think it will benefit you, we'll tape you again at your next appointment.

Can I shower while wearing the tape?

Yes! The tape is extremely sticky, and will dry after getting wet. You're free to shower / bathe as normal while wearing the tape. If the tape becomes excessively wet (think swimming multiple times a day) it may become displaced sooner.

Schedule Your Visit
Whether you're an athlete or someone dealing with chronic pain or a recurring injury, we're here for you with fantastic chiropractic care. Contact our team today to book your first appointment and discover how our natural health modalities can help you unlock your true potential.

Taping Denton TX | (940) 514-1701