Denton Sports Chiropractic Restores Function to Patients
Our Denton chiropractors know what you need. Dr. Crystal, Dr. Maggie, Dr. Taylor and Dr. Kimberly believe that the best care for patients comes from diving deep to uncover what's really going on in their body, and building a plan of action specific for them. The team at Denton Sports Chiropractic wants to help guide you to your optimum health.
With us, you're more than just a number — and we can't wait to help you unlock your health goals.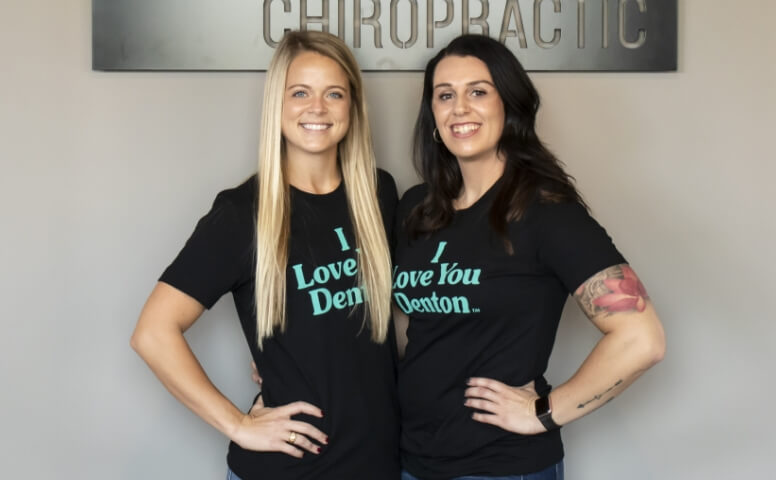 What our patients say:
The whole staff was wonderful. I felt taken care of and like my concerns were addressed

- Colin P.

Very friendly staff and Dr. Hartman was excellent! Very good first impression.

- Tricia S.

Everyone was very friendly which helps patients to stay calm (less nervous) of the treatment they are about to receive.

- Norma B.

It was great! Dr. Taylor helped me very much and solved my issue. Staff was wonderful!

- Leah J.

Kim is awesome! I finally have relief!

- Crystal D.

First visit was great. I look forward to my next appointment and highly recommend!

- Crista M.

Dr. Kim was so good on explaining everything I need to do for my pan on my lower back and hamstring. Definitely coming back and letting my friends know about her! It was great to get adjusted and find someone who very good at what they do!

- Patty B.

Very encouraged about my treatment plan. Excellent first impression.

- Nina M.

I loved working with Dr. Maggie & Adora. One visit and I can already feel improvement.

- Courtney R.

I felt the best I've ever felt walking out of there after only my first visit! I very much look forward to going back and being pain-free! They're miracle-workers!

- Brandi R.

I really appreciated Dr. Crisp's attentiveness to my various issues and the comprehensive advice for improving and maintaining my wellness.

- Scott H.

 Dr Taylor was awesome!! She took her time with me and explained everything!! Very happy to have found her and this practice!!

- Marilyn S.

Dr Kimberly was awesome. I was so nervous going for the first time. But the overall experience was incredible and I am so glad I went.

- Katy K.

I had a great experience with the front staff and Dr. Kim Crisp was amazing! Can't wait for my next appointment.

- Brittany C.

Dr. Taylor Hartman and staff were great!

- Keely W.

5 Star Service!

- Destry C.

Y'all were great, looking forward to my next visit and getting better!

- Lisa W.

Thank you for taking the time to explain things to us and for the exercises we were shown to help prevent injury and pain in the future.

- Kinley A.

So grateful for the care and kindness I experienced at my visit.

- Ashley C.

So glad I went. I feel reset.

- Michael A.

Awesome staff and very courteous!

- Josiyah T.

Very friendly and inclusive care.

- Dylan R.

Amazing! Everyone was so welcoming and friendly.

- Erin F.

Being new to the area it can be a challenge to find the good service providers. The discovery of DSC was a genuine find. Glad to be a part of it and looking forward to all the services available.

- Michael S.