Myofascial Acoustic Compression Therapy,
PiezoWave2 in Denton
Denton Sports Chiropractic
is excited to offer Myofascial Acoustic Compression Therapy (MyACT) using PiezoWave2 for focused pain relief. MyACT is widely used to treat acute or chronic pain in muscles, tendons, and joints.
The results of the mechanical stimuli delivered by MyACT can lead to improved circulation and pain relief-key components in the healing process.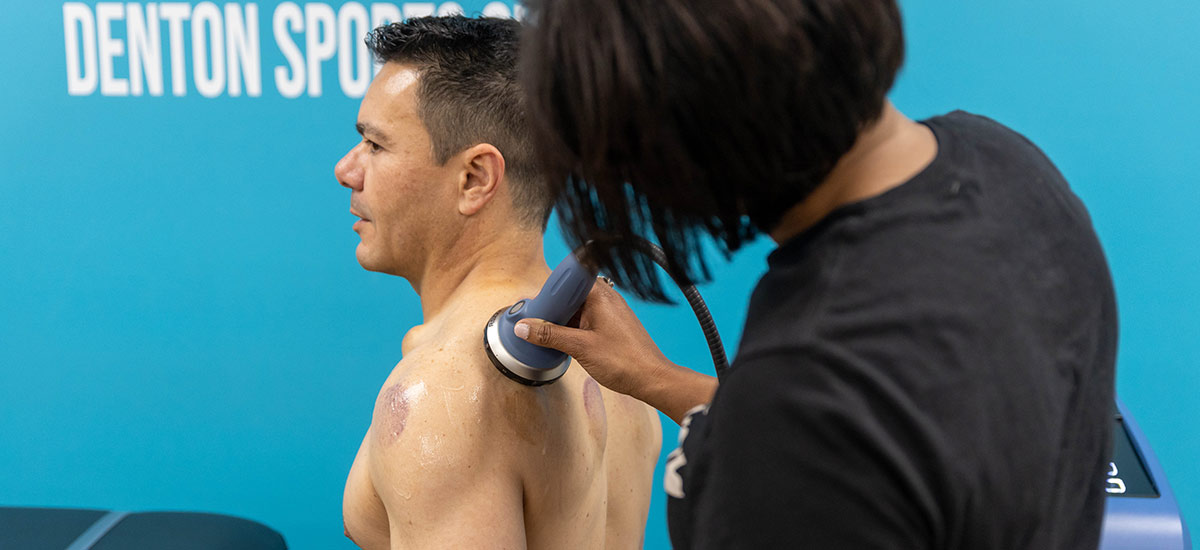 Who (and How) It Helps
Patients who have undergone MyACT treatment feel improvements after just one session, and experience significant pain relief within several sessions. PiezoWave therapy sessions can be scheduled as an add-on to an existing appointment or as a stand-alone visit. We also offer 6-session packages.
MyACT treats pain resulting from:
Myofascial dysfunction
Tendinopathy
Trigger points
Repetitive stress injuries
Enthesopathy
Soft tissue strain
Here are some of the benefits of the therapy:
Locates and alleviates musculoskeletal pain
Improves mobility
Is non-invasive with minimal side effects
Reduces pain medications
Has a short therapy time
MyACT uses acoustic waves to travel painlessly through the body to target tissue at varying depths to compress and manipulate soft tissue. The result is a focused and precise deep tissue massage to the affected area.
The source of pain is not always found in the area where the pain seems to be radiating from. This is clinically called referred pain. The distancing of the pain sensation from its source can make treatment difficult.
PiezoWave2 can help define pain trigger points. Abnormal musculoskeletal tissue can be "flared" or highlighted with focused MyACT to define the treatment area. This process of defining the origin point of pain is patient-guided with verbal feedback.
Typical treatment time averages 10-20 minutes. For optimal results, we recommend 1-2 treatments weekly.
How soon can I expect to see results?
Lasting improvement is usually seen in 3-5 treatments. With acute pain, a single session is typically successful.
Are there known side effects of MyACT?
The side effects of MyACT are minimal and limited to reddened skin or minor soreness at the treatment site.
Book an Appointment
Discover how groundbreaking MyACT may help you. Contact us today to schedule an appointment!

Myofascial Acoustic Compression Therapy Denton TX | (940) 514-1701