Ankle Injuries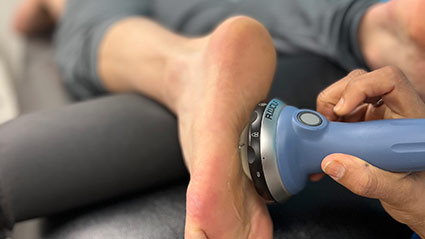 Even a minor foot or ankle problem can feel overwhelming when you're walking on it all day. It's important to pay special attention to any injury or discomfort in the foot and ankle, the foundation of the entire body.
Unaddressed foot pain can lead to an unsteady gait and eventually improper posture, causing your body to compensate with imbalanced positioning. Addressing foot and ankle pain as soon as possible prevents issues from escalating into further problems and pain in the pelvis and spine.
At Denton Sports Chiropractic, we have the skills and experience to diagnose, care for, and prevent all kinds of foot and ankle pain. We work with you to combine in-office therapies with at-home exercises, empowering you to take charge of your recovery and prevent pain from interrupting your busy life again.
Conditions We See
We pay attention to the details when evaluating your symptoms at the first appointment. We'll assess the spot that hurts all the way up to the knee and hip to see if more than one joint is affected. We also do nerve, muscle, and/or orthopedic tests, as well as a posture analysis, to ensure we're not missing any possible factors contributing to your discomfort.
We see a wide range of conditions, including sprains/strains, plantar fasciitis, shin splints, achilles tendon problems, bunions, and Morton's neuroma. We care for chronic issues, as well as acute problems and sports injuries. We know how to respond to any joint, muscle, or tendon problem that's got you off your feet.
Our Approach to Care
We adjust our techniques based on your diagnosis, how long you've been in pain, and what other issues may be tied in. For acute sprains and strains, our first priority is to reduce swelling. We'll often use IASTM, Piezowave therapy, myofascial release , or tape to help you heal as quickly as possible.
Muscle imbalances, like tight calves offset by weak arches, often cause plantar fasciitis. We prefer not to jump right into orthotics, since we believe bracing doesn't support long-term correction. Instead, we use adjustments, mobility, and corrective exercises you can do at home.
The Road to Recovery
With any injury, staying active plays a huge part in healing. We know you want to get back to doing what you love as quickly as possible. While it's always best to play it safe and avoid long-term complications, we share your goal of getting you back in the game right away. We'll examine your unique situation and talk with you about what movements and activities are safe for you to keep doing as we start your plan of care.
It's hard to say how long it will take before you're symptom free. Everyone's body is different; some patients respond to care faster than others. The main thing to focus on is doing your home exercises, which speed up healing exponentially.
Book Your First Visit Today
You shouldn't have to bear the weight of foot and ankle pain. Talk with our office about how we can help you stand on your own two feet again.
CONTACT US »

Ankle Injuries in Denton TX | (940) 514-1701