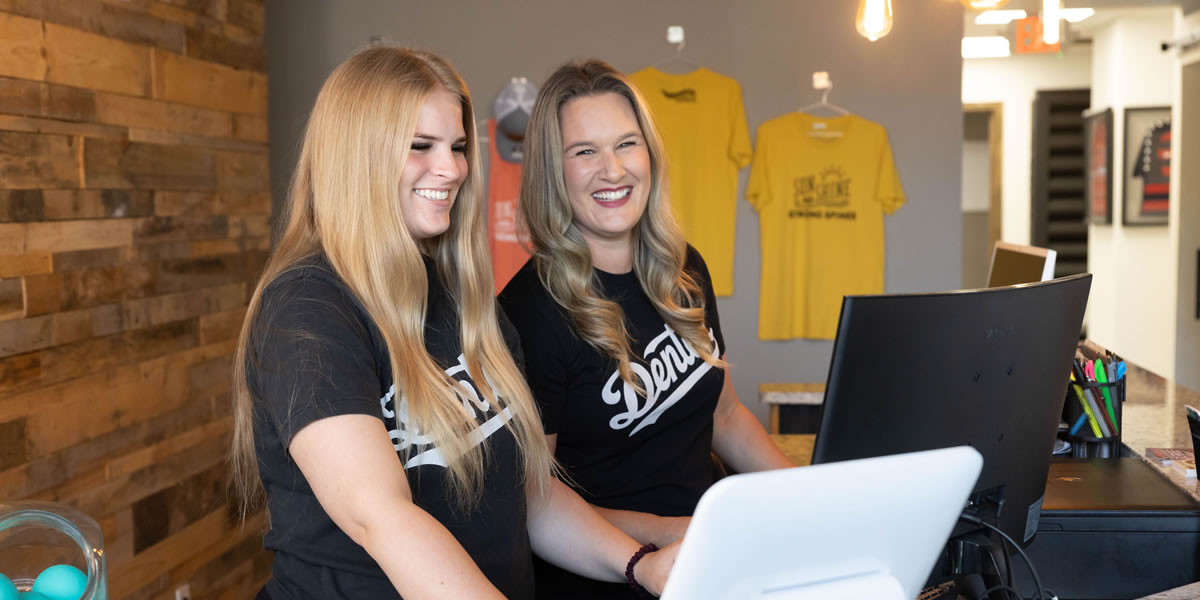 When you walk through the doors at
Denton Sports Chiropractic
, you'll notice an immediate difference in experience. You'll be welcomed as a friend, greeted warmly, and may notice lots of smiling faces around you. Don't be surprised if you hear bursts of laughter or great jams playing. We love what we do, have a great time doing it, and want everyone to feel comfortable and well cared for. We've created a cool, relaxing vibe and a fresh, clean environment for our patients to experience a safe, non-toxic space for healing.
Next Level Care
In our office, you'll find our doctors are trained in practices not commonly found at other chiropractic clinics in Denton. We offer soft tissue focused techniques and therapies with every chiropractic appointment, plus a variety of additional services and treatments to create a customized care plan. We will figure out the ideal combination to provide you with the best possible results.
The soft tissue therapies included with every chiropractic appointment include dry needling, myofascial release, Instrument Assisted Soft Tissue Mobilization (IASTM) therapy, and cupping.
Our massage therapists aren't your usual run of the mill variety. They are highly sought after and experienced in several techniques. Though best known for their sports-specific and medical massages, they also offer exceptional prenatal and lymphatic massages. Whatever your issue, they can help find and address the root cause.
At Denton Sports Chiropractic, we believe in using a holistic, multi-faceted approach to patient care. Our collaborative team includes a certified Corrective Exercise Specialist and two certified Stretch and Flexibility coaches who offer table-based Assisted Stretching and Corrective Exercise Training for all your strength and mobility needs.
We are proud to provide the Denton community and surrounding areas Myofascial Acoustic Compression Therapy (MyACT). MyACT is a cutting-edge treatment that accelerates healing in the muscles and tendons by using sound waves. These powerful sound waves can reach places in soft tissue that needles and fingers can't. MyACT does wonders to relieve repetitive stress injuries and chronic pain, and our patients are loving their results!
Whether your need is pain relief, maintaining general health, or returning to living the life you love, the
Denton Sports Chiropractic team
is here to help you achieve your goals. Our doctors, therapists and entire staff truly care about you and your long term well-being.
It's About Feeling Better—and Staying That Way
When you visit our office you won't simply be worked on. Our doctors will certainly help you restore your health, but chiropractic treatments alone are not enough to prevent a recurrence. We believe in empowering our patients and prioritize patient education. Understanding body mechanics, contributing factors, and becoming aware of behaviors associated with the issue are important parts of your health puzzle. Ensuring all the pieces fit together properly is the key to better and lasting health and wellness.
Our team gives you the knowledge base to continue feeling better after your appointment. We help you create habits to promote a lifestyle of physical health. Incorporating flexibility, mobility, and corrective elements consistently over time at home will add life and vitality to your joints and overall health.
Learn More Today
Our patients tell us they look forward to their appointments. They know they'll feel good walking in and leave feeling even better. Call us today to book a visit!
CONTACT US »